Since 2008, I've been attending CRASE. The Oklahoma club COMAS promotes this event with the words "Catch the CRASE" and I have to say, it is a truism. This one day event features great speakers, livestock and drygoods vendors, raffle prizes, and of course the opportunity to hang out with a fun bunch of hobbyists.
This year, it was held at the COX Convention Center in downtown Oklahoma City on Saturday, September 18 from 9 a.m. to 5 p.m. A few DFWMAS members made the 3.5 hours drive north, myself included. Driving up Friday evening, we arrived just after midnight at the Red Roof Inn. When I reserved this room, my questions were for availability, price, and distance from the conference. What I neglected to ask was what the neighborhood was like. Suffice it to say, it was quite seedy. We ventured out to see some of the latenight night life, to make our adventure memorable. However, this is all I'll share about that.
After only a few hours' worth of rest, we quickly rose and headed to Starbucks for a fast jolt & breakfast. We arrived at the convention center and found the sign in table easily. Once we breached that checkpoint, vendors were lined up on the left and right side of the walkway that lead to the presentation room. The venue was clean, with enough space to meander from booth to booth.
When a speaker was due to begin, this was loudly announced so attendees could wrap up any buying and be seated. Three projectors with matching screens allowed everyone to follow the Powerpoint presentations comfortably.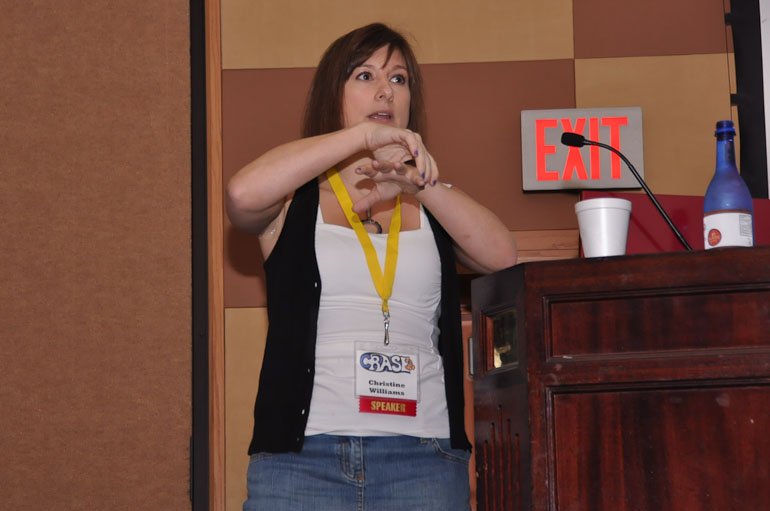 Christine Williams
talked about that various dangers of being cut, stung, or poisoned by our innocent reeflings. Wearing her "vest of truthiness", the audience chuckled at some of the experiences shared and learned what solutions were applicable to various scenarios. The best advice of her talk was to have a emergency kit of specific supplies on hand, as well as a print out to be given to a doctor in case you aren't able to speak for yourself due to emergency circumstances.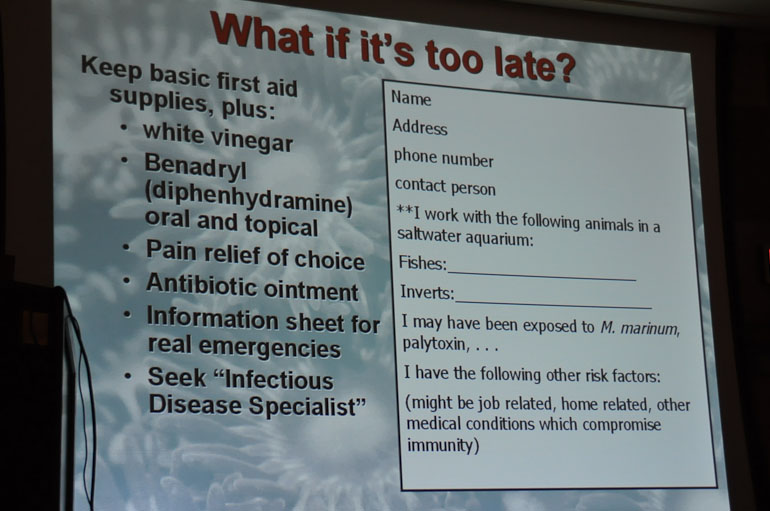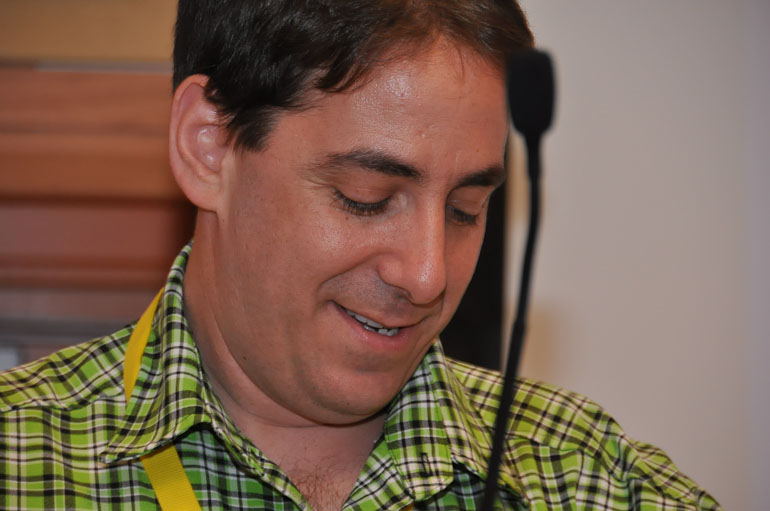 Richard Ross
' talk was so good that I won't even attempt to sum it up. My recommendation is that you find out when and where he will speak next so you can hear every word for yourself.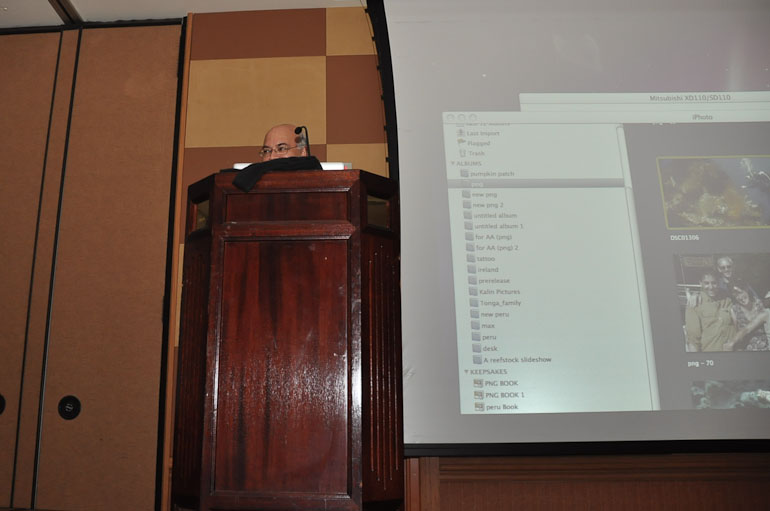 A tiny man speaking on a huge topic:
Sanjay Joshi
spoke about LED lighting, the technology as it stands now, and how it measures up to his barrage of testing. He had some interesting graphs showing how certain arrays spread light while others don't. As hobbyists, we have some pretty demanding expectations: coloration, glitter lines, electricity consumption, product longevity, heat issues, light spread, fixture spacing, canopy limitations, lighting intensity, warranty claims... the list is long and most fixtures aren't quite able to meet the gamut head on, yet at least. I believe we are on track but it will be a couple more years before the cream of the crop will reveal itself and be the fixture of choice.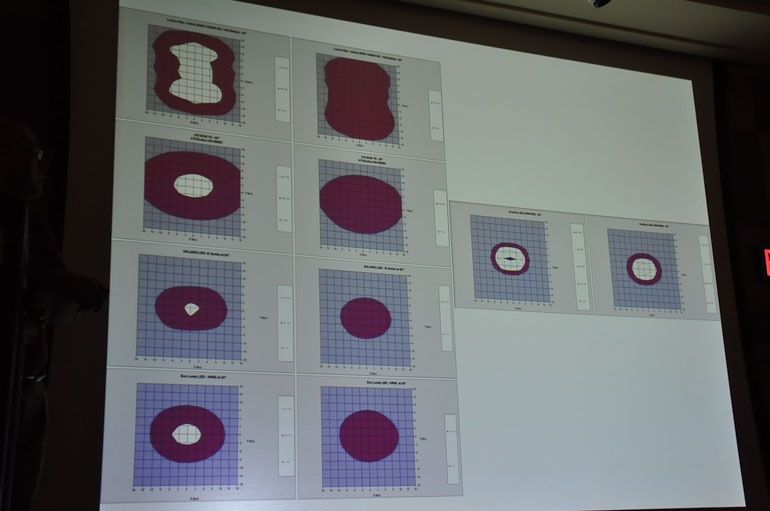 Spending time with the speakers and vendors is the highlight of the day for me, and since we recently were all at MACNA, this was a like a little reunion. We'd had a couple of weeks to rest up from our Orlando rave-like parties, and were able to trade stories and catch up on the latest. Beer and pizza was an easy lure, and talk flowed freely.
But what about the corals?! Yes, there were plenty of corals. At least nine different booths were tanked and stocked with pretty corals ready for purchase. Lighting varied from LED to T5s, showcasing the vivid colors that make us spend our hard-earned cash on yet another twig that we can't live without. I saw bright orange Ricordeas, deep purple acropora with bright green polyps, blues, reds, yellows, and greens... LPS were plentiful including scolys and fungias, and zoanthids continue to be popular selections. Fish and clams were for sale, as well as Sexy Shrimp and brightly colored cucumbers. Drygoods of all kinds were spread across Dirk's booth area, and Seachem was present to discuss their product line. Everyone likes to buy the 'glowing sticks' (colored acrylic rods) that originally were used to point to the frag of choice - now everyone buys them like rock concert mementos.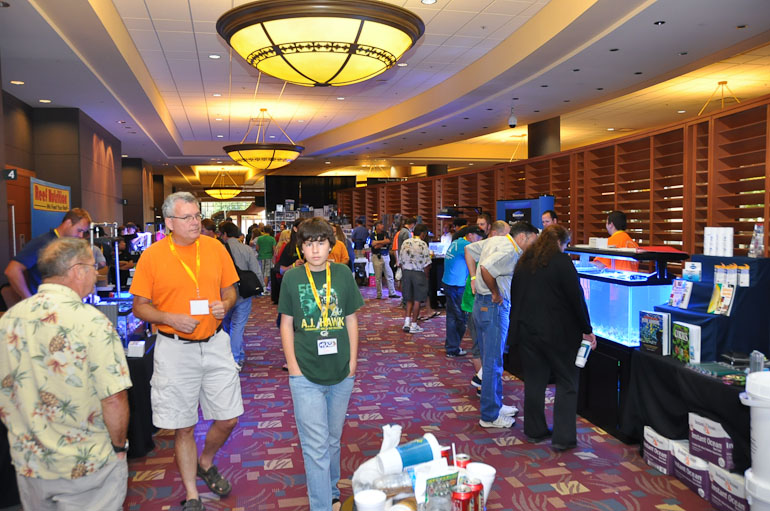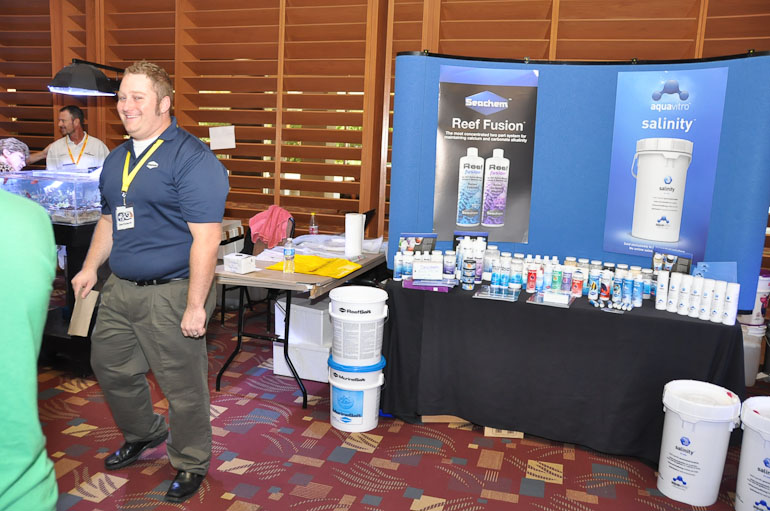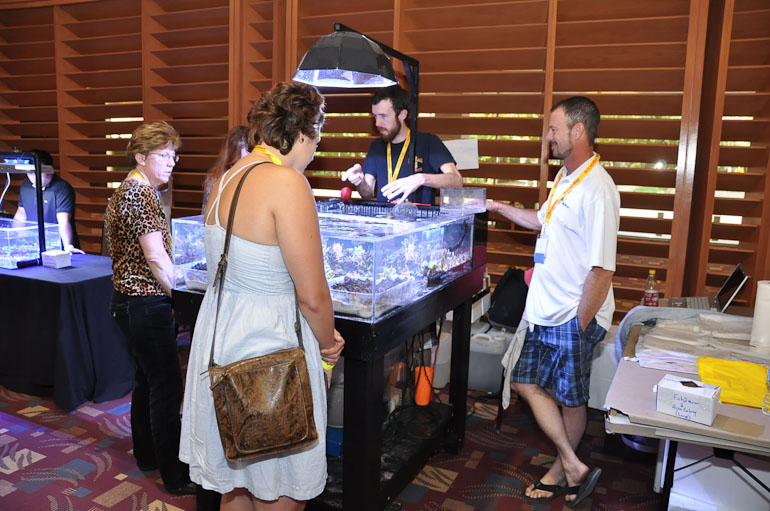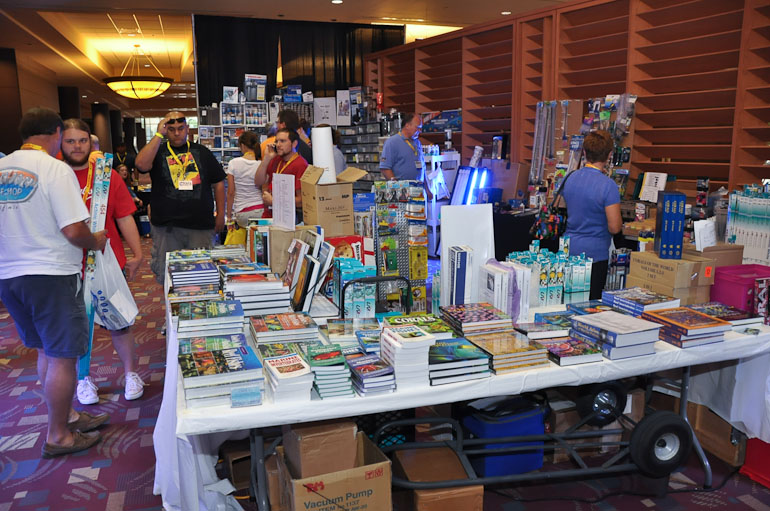 The raffle included t-shirts, bags filled with Reef Nutrition refrigerated foods, specific corals, a RO/DI system, a Evolution LED fixture, two 28g Nano all-in-one systems, and much more. I didn't win anything this year, but perhaps I didn't hear my ticket called and so it went to someone else.
For me, conferences will always be about seeing people I know and hanging out with them for the day. We have so much fun ribbing one another while giving / receiving advice about every topic imaginable. The talks are lively and very educational, making the hobby easier to understand for better results. Many don't even know that pranks are happening around them, like when Paul Whitby opens to the door during one presentation to bellow out "Nice talk!!" like a guy suffering from Polite Tourettes, or when a group of us text bomb Sanjay during his talk just to make him grin. Vendors abandon their booths temporarily to join in the fun at a different booth, to sneak a sip from the hidden beverages and joke with one another about the silly stuff this hobby reveals about people. We then make plans for where we'll go out that night to eat and drink and keep the experience going until eventually we head out for our various destinations, after hugging our friends goodbye until our next encounter.
If you are a reading this and aren't making club events and conferences part of your hobby experience, you are missing out. Get off the forum, get away from your computer, put some gas in your car and drive to the next one you can find. Odds are there are people you've spoken with online, so put a face to that name and get to know them. Want to feel included? Get involved as a volunteer and be rewarded with some face time with these great people. Learn about their likes and dislikes, their other hobbies, about their lives. Then the next time you meet up, you've got that connection to build upon and you'll note the tangible fun I've attempted to describe in this article as well as others. Did I mention we got to glue Paul's finger back together after he cut it wide open?!
I've left out parts of my trip to protect the innocent, and any allegations are merely coincidental and don't necessarily apply to the people that may or may not have been present at CRASE. There - that legalese should cover about everything.
A few Upcoming Events:
SPLASH
in Long Island, NY;
Reefapolooza
in Orange County, CA;
Next Wave
in Fort Worth, Tx - make arrangements now and have fun too!