Bulkheads are a necessary part of a drilled tank to drain water down to the sump. They also are used on sumps running external pumps. A bulkhead is a plastic fitting with a flange, rubber gasket and retaining nut. They come in many sizes, both in Schedule 40 (standard) and Schedule 80 (beefy/sturdy). These are purchased at your local fish store (LFS) or online from various e-tailers. You won't find them at Home Depot or Lowes, but some smaller chains like Elliott's Hardware have some in inventory. Plumbing supplies won't have them usually.
Here is one broken down (
left to right
: retaining nut, rubber gasket, bulkhead):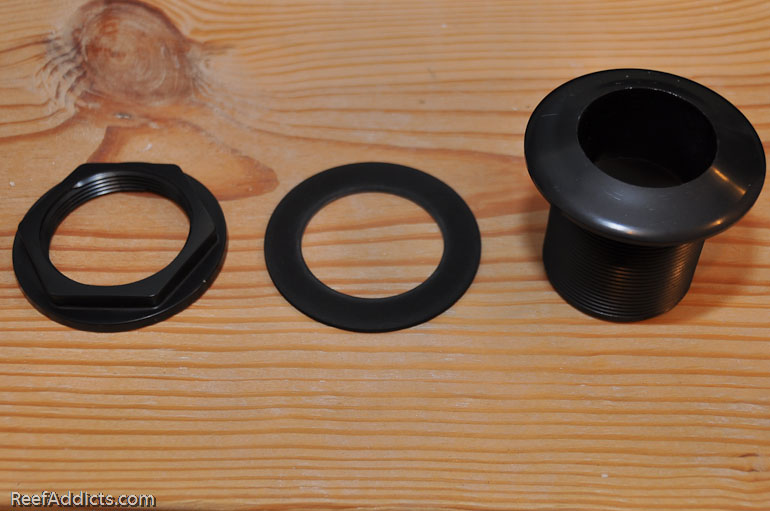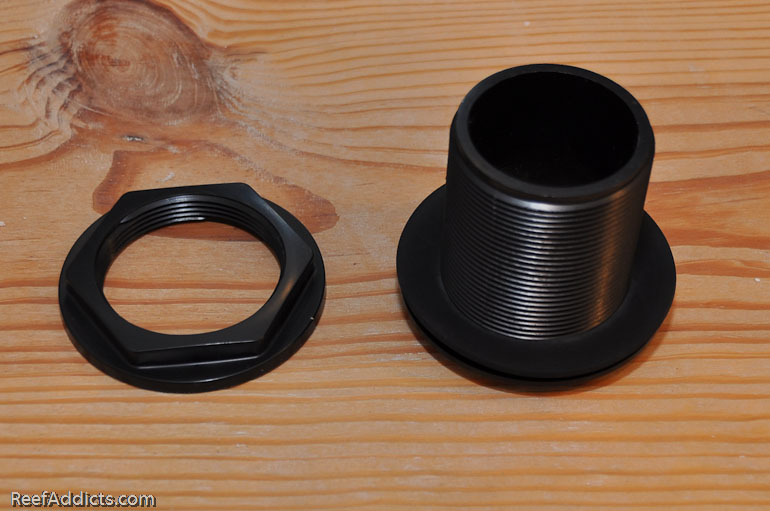 I'm going to describe three types below, and then show you how to install them properly. Whenever a bulkhead is being described, it
always
refers to the inner sockets, never the exterior part. The measurement refers to the inner diameter of the plumbing that will fit inside of it. For example, a 1.5" bulkhead will accept a 1.75" PVC part with an inner diameter of 1.5" internally (where the water flows).
A 1" bulkhead needs a 1 3/4" hole drilled in the tank or sump where it will be installed.
A 1.5" bulkhead needs a 2 3/8" hole drilled in the tank or sump where it will be installed.
A 2" bulkhead needs a 3" hole drilled in the tank or sump where it will be installed.
Metric plumbing does NOT fit in a U.S. standard bulkhead. You will need an adapter part or a metric bulkhead.
The outer threads of a bulkhead are not for plumbing fittings. No PVC parts will screw onto that section, but some conduit fittings sold in the electrical section may fit. Don't use the outer threads for plumbing; they are there for the retaining nut to tighten the bulkhead in place.
All pictured parts are 1.5" Schedule 40 bulkheads.
Slip / Slip
A slip / slip bulkhead is designed for fittings or PVC pipe to be glued to the inside surface of both ends.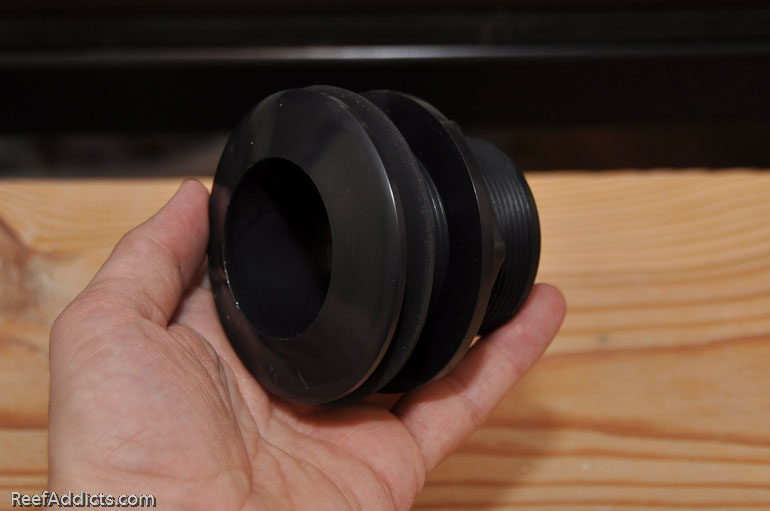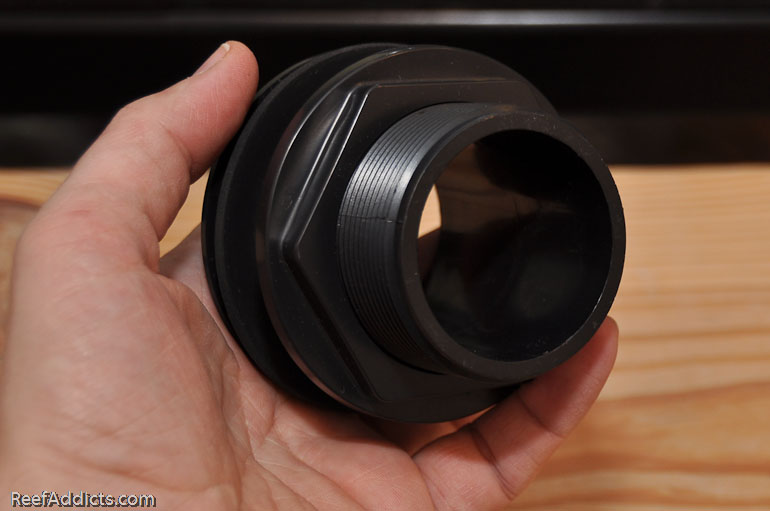 Threaded / Slip
A threaded / slip bulkhead allows PVC to be screwed in to one end while the opposite end will be glued.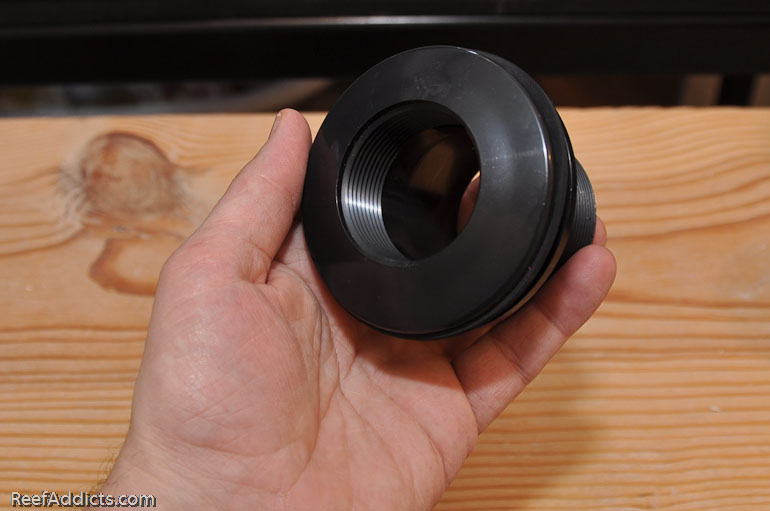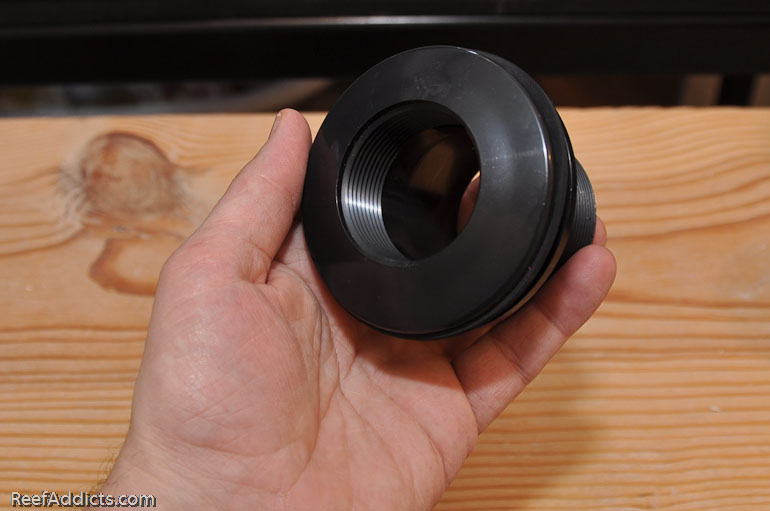 Threaded / Threaded

A threaded / threaded fitting allows PVC fittings to be screwed in both ends.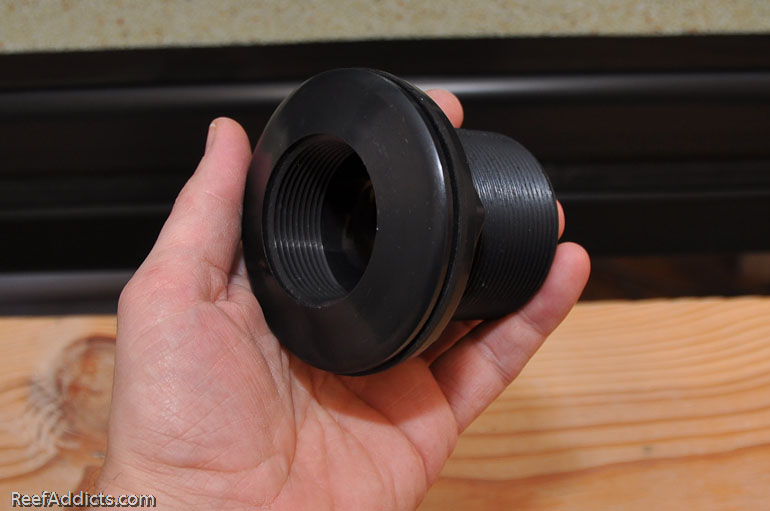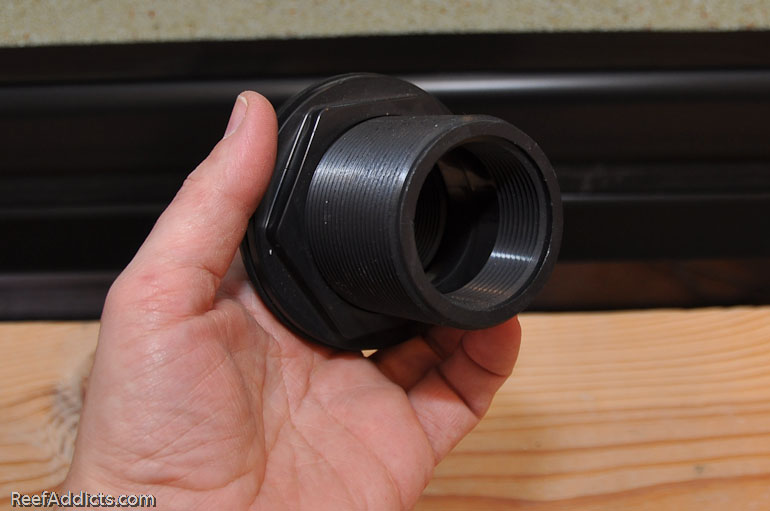 Side by side, you should be able to spot the difference quickly, but if they are sold individually bagged, check them closely to make sure you purchase what you intend to use. Check both ends of each one.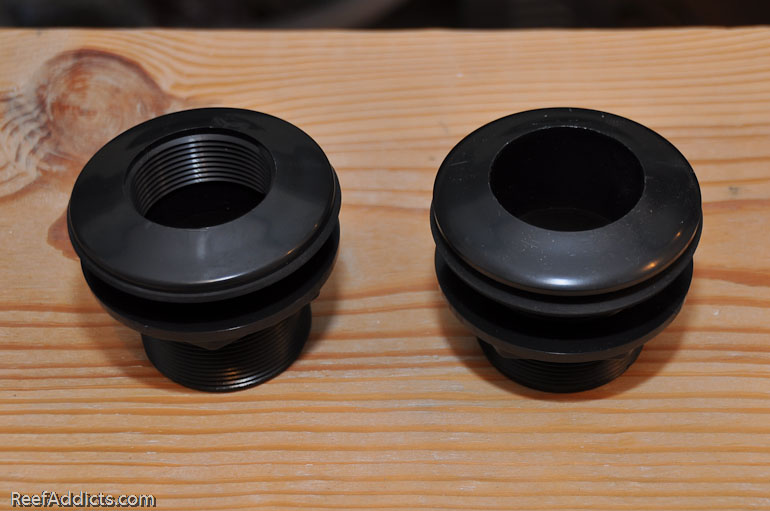 What kind to buy
Knowing what kind to use isn't complicated, once you've determined how you want it to be used. Here are some examples:
For the drain line, you'll likely want to install a Durso Standpipe or similar silencing device. This can be simply pressed into the bulkhead, or alternately the base of the silencer may have an adapter that threads into the bulkhed.
For the return line, you definitely want the pipe rising up from the bulkhead to be secure. Since this one may have to be removed from time to time, a screwed in fitting is the better choice. The reason it needs to be secure is so that it doesn't pop free and send water shooting toward the lighting or the ceiling.
For the bulkhead leading to the external return pump, a strainer keeps your livestock from being harmed if they end up in the sump. Strainers screw in, so the bulkhead needs internal threads on the flange side.
All the plumbing underneath the aquarium or outside of the sump is usually best glued, so a slip fitting would be my preference. I'm referring to the opposite end of the bulkhead, the section that has external threads and no flange.
What size is best for drains and returns comes down to what size the display tank is and what size return pump will be utilized. The drain has to be able to handle the gallons-per-hour pumped into the display. Many aquariums come pre-drilled, or "reef-ready." The common size is 1" drains and 3/4" returns. I feel this is usually too small, and I'm not alone. People often choose to use both sizes as drains and instead add an alternate return line up behind the tank and over the top lip back into the display. I would recommend having a 1.5" drain and 1" return on any tank 120g or larger. My 280g had two 1.5" drains and two 1" returns which worked out well. Bigger tanks need even more drains and returns, but not necessarily bigger bulkheads because the plumbing has to be larger and would get in the way.
For my Marineland 400g custom-made reef, I had them drill five holes in the overflow. The original plan was three 1.5" drains and two returns, but I'm rethinking that idea now. Since I have five holes that accommodate five 1.5" bulkheads, that is what I'm going to install. With multiple drains, the water draining is spread out evenly and thus more quietly.
Schedule 80 bulkheads are usually dark gray, and the walls of the bulkhead are thicker. They are much stronger than the Schedule 40 type, but they also require a large hole size to accommodate them. People opt to use Sch80 bulkheads in areas where they need a really dependable fitting that they will never be able to replace again: the bottom of a display tank in the area where livestock and sand is. Some hobbyists like to use a pump from beneath the aquarium to create flow from the bottom panel, and they need a bulkhead that can be trusted for the life of the tank. Once hundreds of gallons are above that fitting, there's no going back to replace it. I've never needed a Sch80 bulkhead in any of my systems. They do cost more, and need to be special ordered online or via your LFS.
How to install a bulkhead correctly
The overflow needs to be completely clean of dust, sand, or any other contaminants. If you have to do this in a used aquarium, get a helper to hold a bucket under the overflow while you pour a pitcher of water from above to flush away everything. Do this once or twice, then feel the inner surface to make sure it is smooth and clean to the touch.
The rubber gasket needs to be on the flange side, and the flange side normally goes on the wet side of the application. In this aquarium, the bulkhead is inserted from above into the overflow, and the threads are visible beneath it.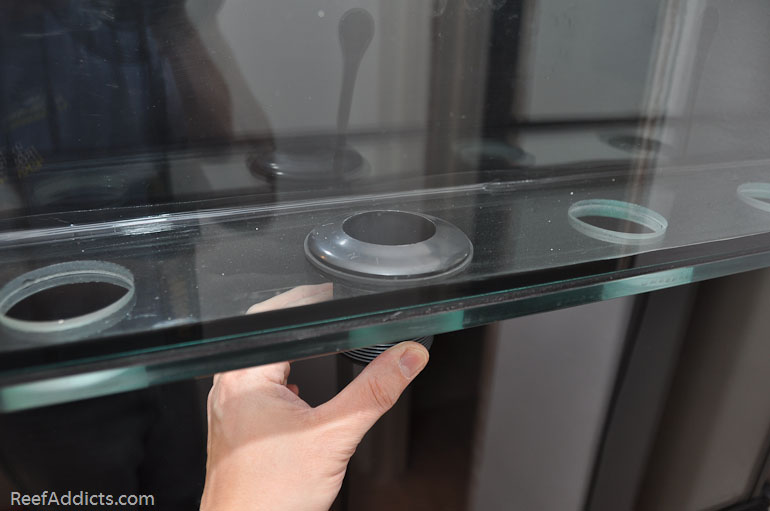 There is no reason to use silicone or grease, nor teflon tape. Silicone may cause the gasket to squish out one side, creating a leak. Since the water is supposed to flow through the opening of the bulkhead (the center hole), the outer section is never wet and thus doesn't need teflon tape or teflon paste.
The retaining nut screws on the threaded end poking out below. Note even the nut has a little flange, which should be facing up as it snugs up against the glass. The previous images above show the nut screwed onto the bulkhead in the correct orientation.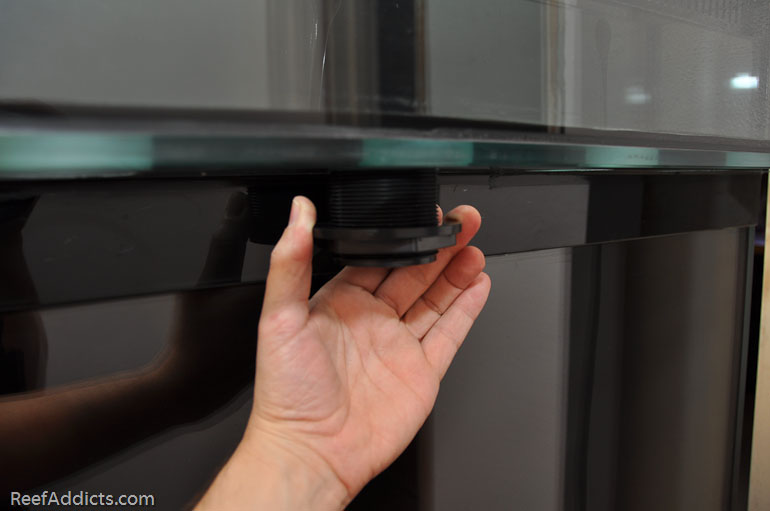 Hand-tighten the bulkhead's nut. If you have an assistant, they can press down on the bulkhead firmly to help squeeze the rubber gasket a bit while you tighten the nut until your fingertips hurt. The nut is applying pressure from below, drawing the bulkhead downward; the flange is compressing the rubber gasket providing a seal.
Do not use a wrench of any kind. Glass or acrylic can crack from the stress of an over-tightened bulkhead. If you overtighten the nut, the nut can crack or the bulkhead's threads could strip -- these are plastic parts after all.
Make sure the bulkhead is completely centered in the hole so the rubber gasket covers any gap while tightening it in place. The bulkhead must match the hole size, and if it is too big or too small, find the correct size to proceed.
Once water has been added, you'll quickly see if there is a drip or leak. No water should come down the outer threads, and the nut should be completely dry. Use a paper towel to dry everything thoroughly, then run your fingers around the bulkhead's underside and check to see if your skin is wet. If you can get your head under there to see where the drip is coming from, it may make it easier to correct the problem. If you simply don't have the strength to tighten the nut a little more by hand, you may have to use some type of tool to snug up the nut a fraction more. A strap-wrench may fit in that area. I've tried using channel lock pliers before, and I've also worked under a huge system that was leaking down on me using a hammer and a screwdriver to tap tap tap that nut slightly tighter to stop the leak. Remember it just takes a tiny bit more to tighten it, maybe a mere 1/8" rotation. Be reasonable and you'll avoid serious damage to the aquarium.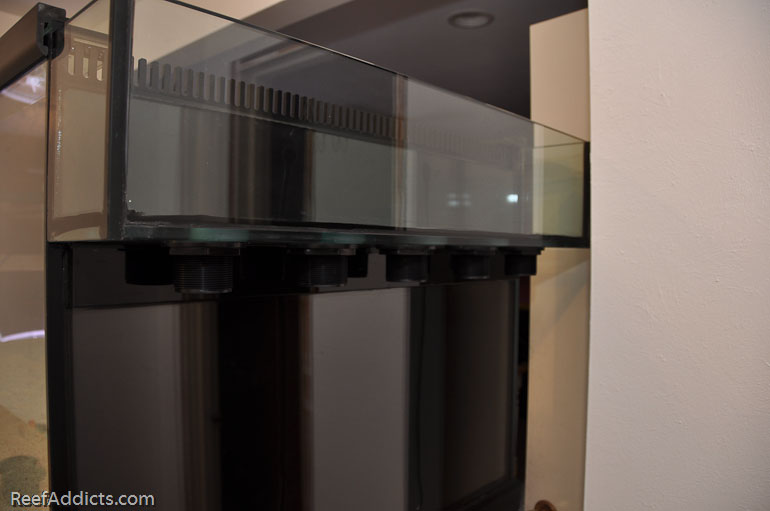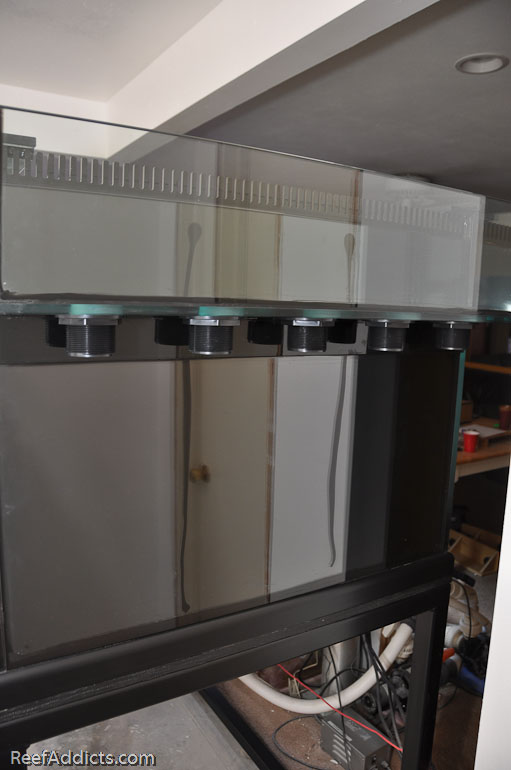 These bulkheads are ready for plumbing.
Some bulkheads are sold with a hose barb connection on the bottom half. This allows the hobbyist to press vinyl tubing onto the hose barb for their plumbing, which could run to a canister filter or a sump. If you use this kind of bulkhead, be sure to use plastic hose clamps so the tubing doesn't fall off. Metal hose clamps are not a good choice because they rust over time, and even worse could drip bits of rust into the sump. Plastic hose clamps are available online and at some retailers. Buying a variety pack is best because you'll end up needing various sizes eventually.
A future article will detail how to correctly plumb a reef tank to a sump.