Lately Iíve been asked a lot about my underwater videos and what gear I use. There isnít really an easy answer for this so I figured more people in this hobby would benefit from me documenting the answer for future reference. I have a GoPro Hero 2 camera and I love it. It is a great camera that is relatively inexpensive for what it does. Because of this, I am not afraid to take it everywhere and put it in conditions that could be considered precarious. For example, over the side of a speed boat in Thailand to film the wake and the approaching islands; the GoPro goes everywhere. Here is the website for all the
specs.
There are two shortcomings when it comes to shooting underwater. The stock housing (while waterproof) will not focus underwater due to the curved nature of the lens. There is an easy aftermarket fix for this. Simply, adapt the unit to fit a flat filter over the curved lens and it focuses perfectly. As a consumer, there are quite a few options available to you to fix this problem. Iíll go over a few of them and the pros and cons to each one. Additionally, shooting underwater makes it hard to capture the correct color. Everything will either look green or blue depending on the part of the world youíre shooting in. You need to get a color filter to correct the videos as they are shot. The solutions to fixing the blur issue also double as a mount for a color correcting filter in most cases. Solving two problems with one stone.
Eye of Mine
- $89-100
This was the original solution suggested to me by a friend who owned the GoPro Hero. After some research I found that you cannot swap out the color correcting filters to change the color from clear to orange and visa versa. So while it will focus perfectly fine, you do not have options of shooting in different colors of water.
GoPro Dive Housing
- $50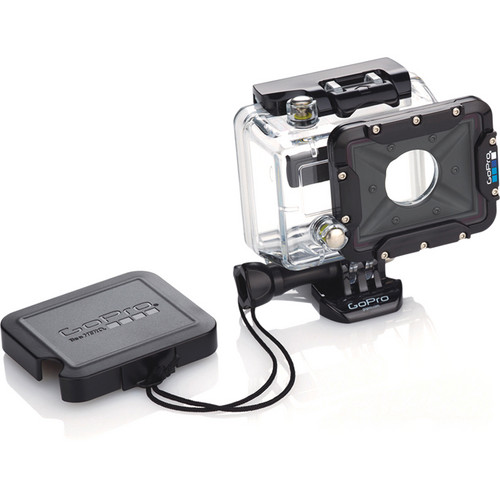 While this seems the best option because it comes straight from the manufacturer and it is cheap ($50) the filters that go on the front are proprietary and are a square shape. As of right now, GoPro is not offering any color correcting filters for the front of the dive housing. . Unless you want your videos to be a drab blue from start to finish, this isnít the best option.
BlurFix Adapter
- $80
This is the solution I have chosen and recommended to plenty of my friends. I ordered the kit version, but there is a pre-mounted housing that you can buy if youíd like to spend the extra money. You get the adapter, a clear filter, and the aquarium silicone to put the adapter on your existing housing. The instructions are very easy and clear to follow and took me no more than ten minutes to install myself. The benefits of this particular adapter is that you have the option of buying any aftermarket 55mm filter to change the color of the water as you see fit. I researched and the recommended filters are the URPro filters. They are a bit pricy running about $77-$100 depending on the one you choose. I decided to try my hand at finding one that wouldnít be so expensive. To correct green water (like the waters off of San Diego & Thailand) you need a pink filter (pink is the opposite color to green on the color wheel). I searched online and found this great deal on a
pink filter
and a Tiffen 25A Red filter. I figured Iíd try those collectively for about $25 before I went out and spent the $80 on a URPro filter. I just took them to Hawaii and my loss is your gain. The pink Zeikos filter is actually acrylic not glass and will bend under the pressure of water deeper than ~20ft. It touches the curved lens right in the center creating a blurry spot right in the middle of your video. Also for water deeper than 20í it doesnít do much to correct the colors at all. Itís all blue anyway. However, for snorkeling and shallow diving the pink Zeikos filter is a steal! It corrects the color of the water perfectly in both green and blue water. The Tiffen red filter however just makes everything in shallow water, red, and in deeper water everything looks black. Just not enough light for that filter. I think Iím forced to try that $80 URPro filter for deeper diving. When shooting above ground, you will want to remove all filters as Iíve found that youíll get funky lens flares and reflections from them.
BackScatter
- $119
This housing is one that I have not tested myself. But from the looks of things, could be a great option for people who donít want to assemble the Blurfix. It claims to fix the above ground problem, too by removing the curved lens all together. This adapter also comes with a proprietary filter that will color correct as well. Iím curious as to how this would work, but I canít recommend it over the Blurfix being as I havenít tried it out and you only have one filter option unless they produce more.
You can see in this video the pink filter correcting color at the shallower depths, and causing a blur bubble in the center at deeper depths. These two videos were shot at Two-Step in Kona, Hawaii
Here is a mix of pink in the shallows and clear in the deep and at the end with the turtle and ray. I really wish I had the pink on then, but I was already out in the water.
Update:
10/17/12
GoPro comes out with a newer version, the Hero3 Black!